Quarantine Diaries From New Zealand: Part II
Our Greentree Consultant Andrea Spurdle recently returned to her native New Zealand to pay a visit to family. Only one snag: People returning to New Zealand are required by law to partake in two weeks of government-mandated quarantine due to the Covid-19 pandemic. Apparently this is because the New Zealand government are determined to prevent the spread of the virus in their country and have taken logical and effective measures to achieve this aim. A novel concept for us Brits but, back to the topic at hand, Andrea has generously agreed to share some of her experiences with us in the form of a daily diary documenting her life Working From Home Hotel! Enjoy!
Day 8
I've made it halfway! The best way I can describe this is that it's like being in solitary confinement in a very posh prison where everyone you encounter is very nice to you. It's not horrible, but it's not a walk in the park either. I'm pretty introverted and generally quite happy with my own company, but after a week even I am starting to feel like I'd like some proper human interaction, not just on the phone or video calls. Still, it's all in a good cause: it's brilliant that New Zealand is completely free of Covid-19 in the community and I'm happy to do my bit to keep it that way. I'll be even happier in a week's time when I can join everyone else in normal life with no social distancing rules. Anyway cheers to making it half way!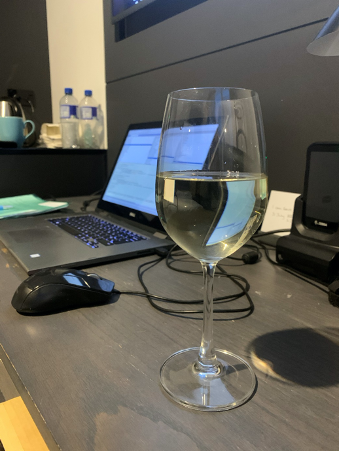 Day 9
I'm spending my days working productively – it's amazing how much work you can do when the phone doesn't ring! But many other people here are getting very bored. The hotel offered us chalk and said we could draw on the asphalt in the hotel driveway. Mostly, this has been taken up by kids, but someone spent a lot of time producing this masterpiece!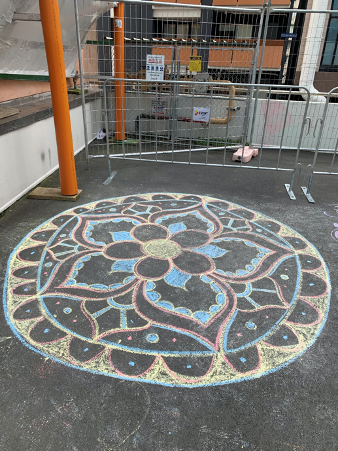 Day 10
The authorities are very serious about the security of these managed isolation facilities. There are any number of security people around 24 hours a day. We're under constant surveillance while we're outside which is odd. There's always one police person on site, and they always look very bored – I'm sure this guy below was having a nap! I'm sure that if anyone tried to make a run for it someone would wake him up pretty quickly. I decided not to test this theory…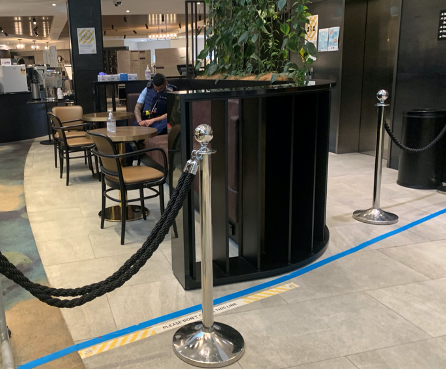 Day 11
I can't get down to the wharf for exercise every day as the sessions get full. On days when I can't get to the wharf for proper exercise, I generally go down to a little terrace inside the hotel grounds. From the terrace, you can see pedestrians on Auckland's main street, Queen Street. It's a little surreal watching people as they are not wearing masks or social distancing – freedom, essentially! So close yet so far away!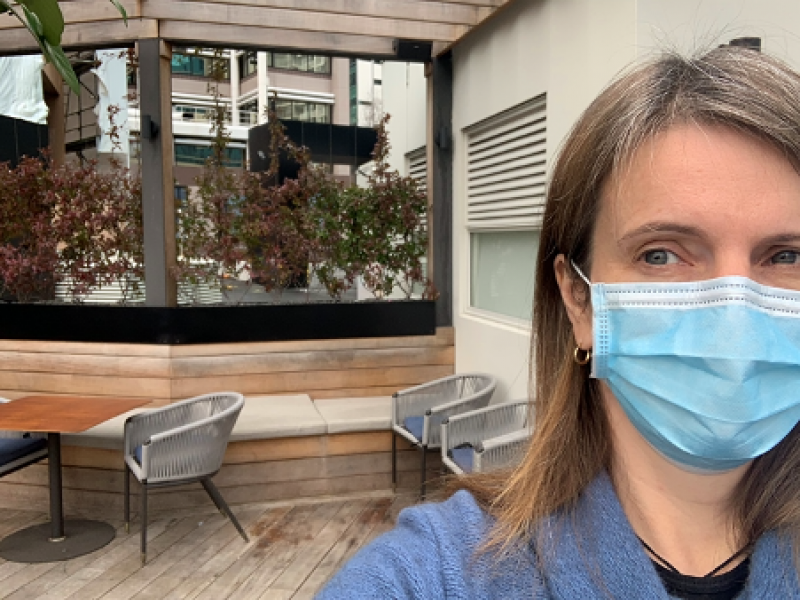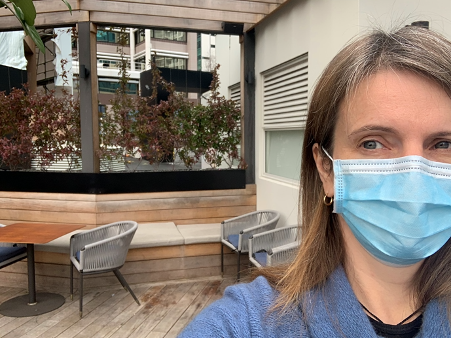 Day 12
I had my final Covid-19 test today. The tests are very unpleasant, but only for about 10 seconds. So it's not so bad, really. We were tested on day 3 and again on day 12. Both tests have to be negative before they will let us out at the end of the 2 weeks.
Day 13
Here at the hotel entrance, there are two fences blocking anyone from going in or out. The only gap is by the security point, which is manned 24/7. Delivery drivers pull up every so often with food – (Uber Eats and Dominos seem particularly popular) and sometimes family members drop off essential supplies. Apart from that, it's all very quiet.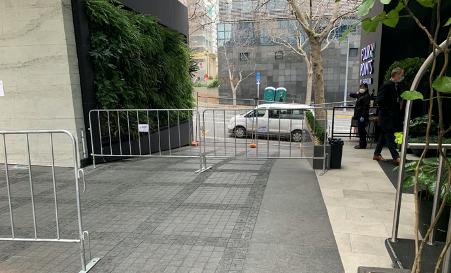 Day 14
I'm free at last! A winter walk on the beach with my Dad!