We are extremely pleased and proud to announce that we recently received a pair of very prestigious accolades from the annual Greentree Awards for 2017.
Consultant of the Year
Our Greentree Consultant, Andrea Spurdle, was recognised as the outstanding Greentree Consultant of the Year for the second year running. This award is particularly meaningful as it is voted for by Greentree users throughout the U.K and for Andrea to come out on top in this highly competitive field two years in a row is a truly impressive feat. We wish her luck in completing her hat-trick in 2018.
Customers' Partner of the Year
Our second award was given to the business as a whole in the category of 'Customers' Partner of the Year'.  We have always placed the utmost importance on customer satisfaction and this award pleases us a great deal as it is voted for by Greentree customers throughout the U.K. We will strive to maintain these exemplary levels of customer satisfaction in the future.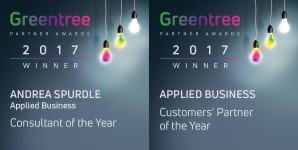 Everyone at Applied Business would like to place on record our thanks to Greentree and everybody who voted in the awards. We would also like to extend our congratulations to all of our fellow winners and nominees.