Manage budgeting, inventory, change orders, time sheets, billing, profitability, and reporting for individual business initiatives. Projects are included in company-wide financial reports with full multi currency support.
Why Choose Acumatica for Project Accounting Management
Project Accounting Software features are integrated with General Ledger, Accounts Payable Software, Accounts Receivable Software, Sales Order Management, Purchase Order Management, Inventory Management, and the Time Management.
Benefits of Project Accounting Management for your Business
Track Project Costs

Gain a complete view of project-related costs for materials, labor, services, and inventory items. Reclassify bills for accurate project costing and financial analysis. Simplify corrections based on general ledger account or subaccount, project or project task, and cost code.

Flexible, Accurate Billing

Vary billing rates by employee / customer, type of work, or specific project. Recognize revenue based on completion percentage or task progress.

Budget Reporting

Compare actual project costs with original and revised budgets and forecasts by period using real-time reports. Include all project costs: inventory items, non-stock items, labor, services, and more.

Control Change Orders

Improve project management by controlling changes to the project scope, including customer and internal requests. Create a change order with all the documentation, including the revenue budget, cost budget, commitments, and class. Define your workflows and approval processes, and release change orders with full business intelligence visibility and audit trail control.

Project Materials Management

Streamline the management of project materials, including receipts and issues for purchased materials. Create purchase orders that will ship materials directly to a project location.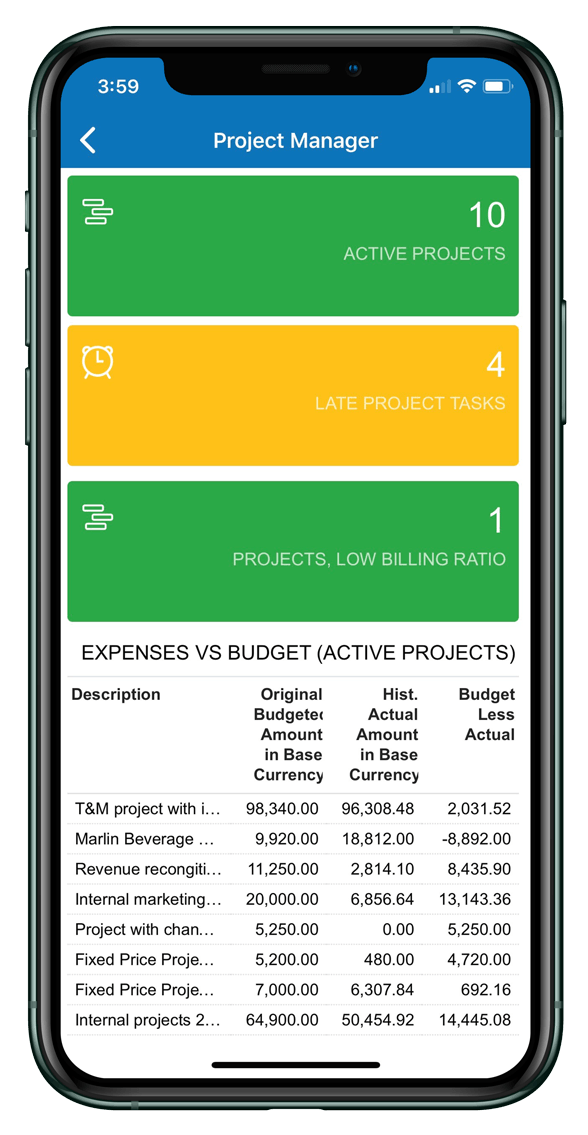 Manage Project Quotes

Simplify project sales and pricing by supporting complex quote processes, improving project control and management. Create quotes, update them, link them to CRM and track versions. When approved, create projects and provide billing details.

Company-Specific Financial Periods

Companies within the same tenant can have different fiscal year-end dates, important for companies that share vendors, stock items, and employees. The company-specific periods are defined at the branch level.

Multi-Currency Project Accounting

Enter project transactions in different currencies and maintain projects in both the base currency and the project currency. With multi-currency project accounting, project managers and accountants can review actual revenues, actual costs, and committed costs in the project currency, with an ability to calculate project profitability in both the project currency and the base currency, and present costs to the customer in the customer's currency.

Revenue Recognition

Define billing rules to recognize revenue using the percentage of completion or the completed tasks method. All recognition rules are automatically reflected in the GL journal entries.